PRIME (that is, Planning Realistic Implementation and Maintenance by Educators) is a system of tiered supports designed to promote implementation of evidence-based interventions. These implementation supports are designed to be efficiently delivered within a multi-tiered framework during intervention implementation (see Figure below) and include feasible universal implementation supports to facilitate high initial levels of treatment integrity as well as increasingly intense and targeted implementation supports to respond to potential decreases in treatment integrity. Within PRIME, decisions to deliver implementation supports are data-driven, based on treatment integrity data and progress monitoring data as well as a measure of the implementer's perspective, the Implementation Beliefs Assessment.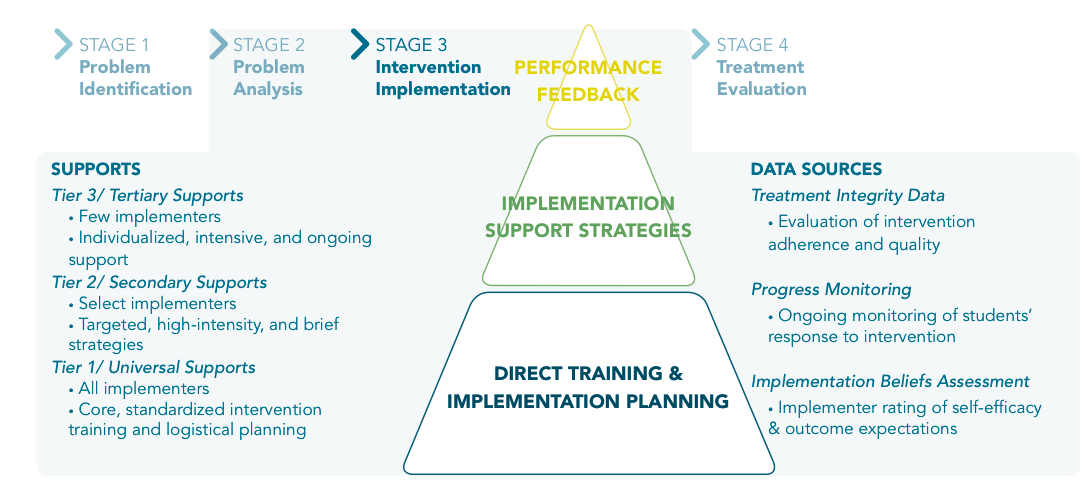 Basis for PRIME
Over the past two decades, researchers and practitioners have worked to identify and adopt evidence-based interventions to support student outcomes. Though evidence-based interventions have a greater likelihood of achieving positive student outcomes (as compared to other interventions), their identification and adoption alone is not sufficient. Interventions have to be implemented with a high level of treatment integrity to maximize student outcomes. However, studies show that most implementers struggle to consistently deliver interventions as planned.
Additionally, evaluating treatment integrity is necessary to determine the functional relationship between an intervention and changes in student outcomes. That is, with treatment integrity data you will be able to say whether the intervention is responsible for improvement in student outcomes. This issue is particularly important within multi-tiered frameworks such as Response-to-Intervention and Positive Behavior Interventions and Supports, in which a student's response to an evidence-based intervention determines the level of support he or she receives.
Treatment integrity can also be important for documentation purposes. Documenting treatment integrity data provides a record of any adaptions to an intervention or any problems with implementation, which may inform future intervention decisions. Further, increasingly educators are expected to document treatment integrity data to demonstrate that students received interventions and supports to which they were entitled. That is, treatment integrity data help educators demonstrate accountability.
Development of PRIME
The development of PRIME was informed by research on treatment integrity and an evidence-informed theory of adult behavior change from health psychology, the Health Action Process Approach* (HAPA). In addition, prevention science, behavioral theory, consultation, and coaching literatures informed the organization and components of the PRIME Model. PRIME Implementation Supports have been rigorously evaluated and refined based on research results. These findings indicate that PRIME can increase educator's delivery of evidence-based interventions and result in subsequent improvement in student outcomes. Further, these implementation supports are feasible within an indirect service delivery model (e.g., consultation) and were described as valuable and helpful by educators.
*For more information about the theoretical basis of PRIME, please see What is HAPA?
Project PRIME was supported by a grant provided by the Institute for Education Sciences, U.S. Department of Education (USDOE; R324A100051). Opinions expressed herein do not necessarily reflect the position of the USDOE, and such endorsements should not be inferred.